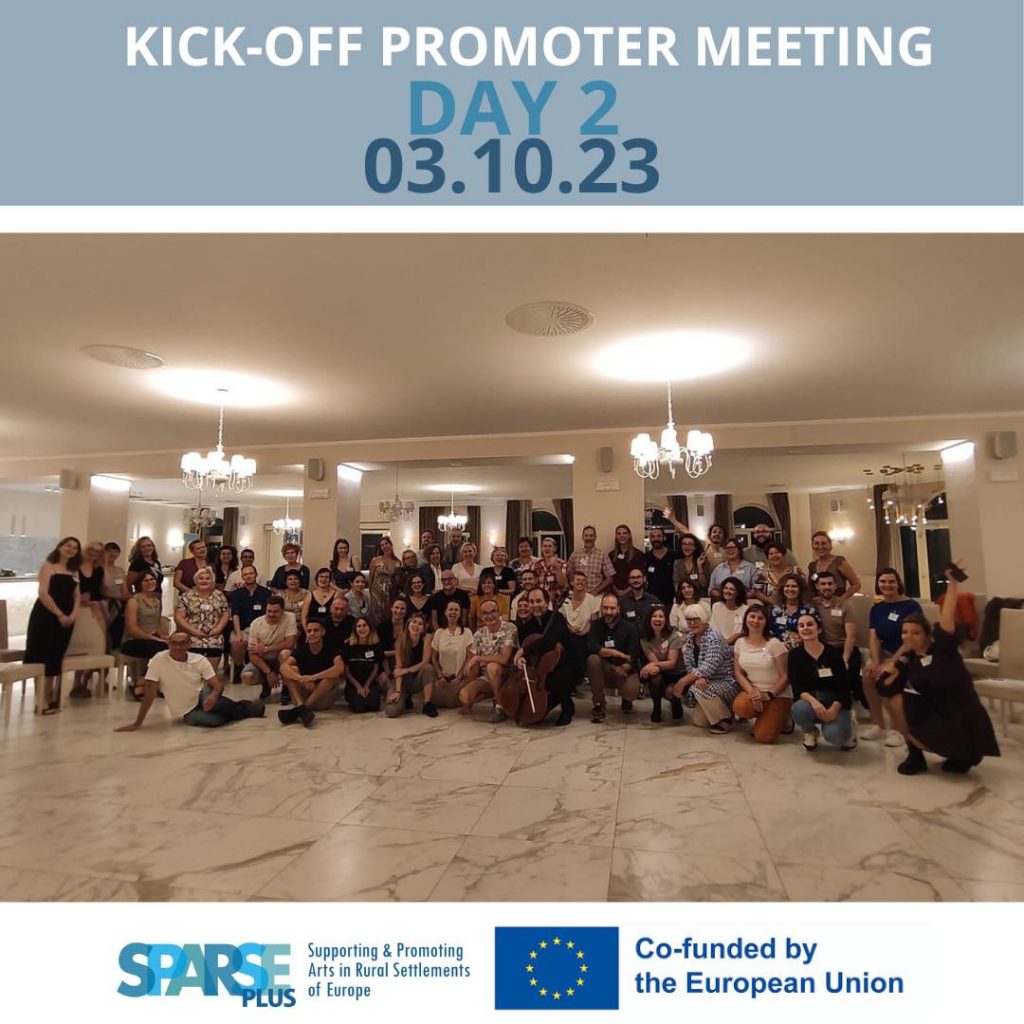 Picture was made in Villa Pigna on the 3rd of October 2023 during the second day of the first local promoter meeting. There are every partner's contact person and the local promoters from the partnership countries.
Find out more about the project:
"SPARSE plus – Supporting and Promoting Arts in Rural Settlements of Europe plus is a Creative Europe funded project, it includes the original SPARSE partners: Associazione Marchigiana Attività Teatrali (Marche, Italy) as Coordinator with SA Eesti Tantsuagentuur (Estonia), Artists Group Fish Eye (Lithuania), Shoshin Theatre (Transylvania, Romania), Riksteatern Varmland (Varmland Sweden); with new partners Pro Progressione (Hungary), SINUM (Hungary), Nova Sit (Czech Republic), Teatro 4Garoupas (Germany), Art Fraction Foundation (Poland) and Fondazione Toscana Spettacolo (Tuscany, Italy).
Building on SPARSE successes, it will expand and deepen the rural touring network, providing access to high quality professional arts events in rural communities. According to EU statistics 30% of Europe's population live in a rural area, access to services is worse and social exclusion is higher in rural areas.
There will be 150 performances by at least 45 artist companies in 50 rural communities to 7.500 audience members. 20% performances will be cross border and slow travel will mitigate environmental impacts with partners offsetting carbon emissions.
A live and digital mentoring programme will support 50 local rural touring promoters and at least 45 artist companies to learn the essential mechanics of rural touring, including visits to experienced rural touring partners.
There will be 3 key events; a kick-off meeting for 50 promoters and 11 partner staff; a public facing Symposium for 100 delegates (policymakers, funders, cultural associates) and a final Conference will share learning and launch the next 4 years programme for 100 delegates (local promoters, partners, artists, potential new partners and associations).
To capture and disseminate learning a new SPARSE Network website will host the project and feature new rural touring toolkits for artists and local promoters translated into various partner languages; a free to access recorded mentoring programme; evaluation, research and advocacy reports; and a film documenting the project."
Resource: https://www.sparse.eu/sparse-2/