Cooperation partnerships in adult education (KA220-ADU)
Weaving Voices as Threads of Communities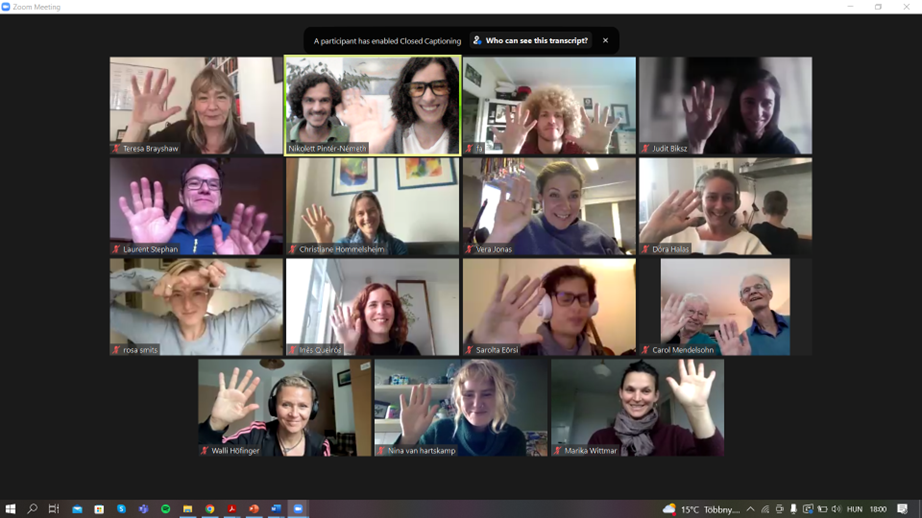 Concept and objectives:
The general focus of the project is framed by informal adult learning/education that applies creative tools in rural areas. Partners basically exchange knowledge of good practices and reach out for a target group. We aim to establish protected, site-specific spaces in and around villages, in their natural, agricultural or industrial neighbourhoods, where people (both staff members of the partners and individuals from the target groups) can have free, experience-based creative encounters.
Besides initial talks and reflecting discussions, the primary way of communication will be non-verbal, while engaging bodily senses through listening, moving, and giving voice beyond daily usage. We imagine the various voices of the communities as threads that are constantly woven together in changing patterns. Therefore, we are interested in carrying out practice-based experiments on connecting seemingly very different forms of artistic practises: the act of weaving together inspired by environmental sounds and the vocal journeys of the participants. For this complex, contemporary work we can rely on archaic forms of oral traditions, namely, the occasions of women's gatherings – including different generations – in ones house for spinning collectively, while singing and storytelling for hours. The intersection between the palpable handcraft activity and the more ephemeral auditory and spatial compositions can be defined as "improvisations with a common thread". Whatever happens to one, that will immediately leave a mark, affect each participant and the product under process.
Besides indoor activities, the participants – according to their physical abilities – will also be invited to go outside for hiking and get in touch with their environment in non-daily, performative and playful ways. In previously chosen and prepared spots, preferably in natural environments or large fields, we all let our voice cross the space rather far, by engaging with the female tradition of herding calls, inspired by the Swedesh singing form, kulning.
Feldenkrais movement therapy practice helps the participants to focus on their bodies, find healthy postures and movements, and open their vocal organs. By including creative writing as part of the activities, we aim for a poetic and personal mode of verbalizing and sharing experience.
Previously, the members of Sinum (coordinator) had been busy with different projects about exploring improvised voice and movement in group sessions, as well as physical and outdoor theatre in rural places. Supported by this experience – which we aim to continue and develop – innovations will be introduced and worked out in experimental ways.
The first third of the project is planned for inner exchange of practices among the partners, while the second third would be the period to invite inhabitants of rural or isolated communities (target groups) and involve participants who are less or not at all experienced in our practices. Finally, the rest of the time would be suitable for evaluating and developing what we have done, and possibly publish written, visual, and audible materials as "project results".
Target group:
Adult people of different ages, who live in rural areas and have less access to diverse cultural programs and informal education; we also aim to involve people with less financial income
Cultural professionals and adult educators (in a wide sense) who can professionally benefit from the project activities
The working groups that include members of the target group are imagined as mixed groups: staff members, local professionals outside of the partnership and adult villagers regardless of their professions.
General priorities in accordance with the Erasmus+ Programme Guide (relevant for the present project):
To promote equal opportunities and access, inclusion, diversity and fairness across all its actions – participants with fewer opportunities – reaching geographically disadvantaged areas with weaker infrastructure and cultural life (compared to cities)
Environment and climate action – building knowledge, skills, and attitudes on climate change and support sustainable development
Programme Guide web-link:
https://erasmus-plus.ec.europa.eu/programme-guide/erasmusplus-programme-guide
Potential partners and their potential roles in the project:
cultural heritage of vocal research in theatrical context; transitions between breathing–speaking–singing towards self-knowledge
perception through voice, body and movement; practices of listening; interrelations between environmental sounds and human voice
https://www.leedsbeckett.ac.uk/staff/teresa-brayshaw/
Feldenkrais movement therapy, performance practices and creative writing; photo documentation of the project
(Netherlands) – organisation is to be defined
https://rosasmits.com/How-to-weave-together
weaving together as a dialogue and documentation of flexible social networks; hand-made carpets as material maps
https://www.sinumtheatre.eu/en/
connecting creative channels (voice and listening, thread and theatrical practice), applying them sight-specifically in rural places
community choir; improvised musical compositions; singing as a game from pedagogical perspective
voice across open air in natural environment; sustainable cultural initiations; connecting urban and rural inhabitants
Duration:
28 months, from September 2022 to December 2024
Budget:
250 000 EUR – this is a fix amount that is divided freely into "work packages" according to the activities
Activities:
Partners would organise workshops and training sessions and visit each other as learning/teaching participants. A preliminary schedule will be made as part of the application, but it is still flexible to match with everyone's timetable.
Activities should be designed together with the suggestions of each partner beforehand, as part of the planning, aiming for the best quality result.